Carrie S. Allen
YA Author
Welcome to the TeamGirlPower Wishlist page!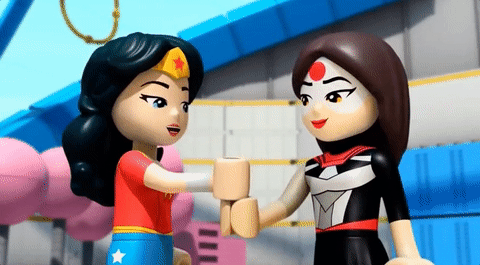 We're Carrie and Sabrina, contemporary YA writers, and we co-mentor YA for Pitch Wars. Our 2018 mentee, Kristy Boyce, won the RWA's Rosemary Award and signed with an agent for her Pitch Wars manuscript. You can read about our experience together here: Pitch Wars Success Story
Let's get right to the good stuff. Here's what we hope to see in our inbox:
* GIRL POWER (obvi and a thousand times): Fierce girls, strong girls, smart girls, brave girls, sporty girls, funny girls, sweet girls, bad girls, sassy girls, girls who kiss girls, girls who kiss boys...ALL THE GRRRRL POWER. Please note: TeamGirlPower loves boys--characters and writers!--but we want any manuscript we take on to be girl-positive and have a strong female cast.
* LOVE: We LOVE love in all its glorious forms. Make us swoon with your smooches, cuddles, and sex positive sexy times. Give us all the ships! We're also fond of can't-live-without-you besties, girl gangs (or teams!), enemies-to-friends (or lovers), found-family and family/sibling stories.
* Diversity and inclusion, especially own voices (disclosure is per your comfort level only!)
* Sports!
* Gender swaps
* Adventure stories (extra swoon for girl pirates!)
* Unique settings, epic road trips, or travel
* College setting, as long as the story and characters are still YA and not NA
* Books that make us laugh or cry
* Issue driven, make-you-think books
* Complex characters (not just your MCs!)
* Characters with a dark side or secrets
* Characters with unique passions and interests
* Creative spins on tropes and retellings
* Underdogs
* #metoo
* STEM
* Pets (but not hurting or killing them)
* Light elements of fantasy or sci-fi (think Scorpio Races or Last Voyage of Poe Blythe)
These aren't the right fit for us:

* Genres: Science Fiction, Fantasy, or Historical that requires heavy world-building feedback; Horror; Epistolary; In Verse; Erotica; New Adult; Memoir; Graphic Novels. If you don't see your genre here, we want to see your book.
* Romanticizing sexual assault and harassment, toxic masculinity, victimization of women.
* Glorifying violence or violence that serves no specific purpose to the story.
* Diversity if what you need is a sensitivity read. (If you have already consulted sensitivity readers and require general feedback, we love diverse manuscripts!)
* War-related PTSD or fresh grieving of MIA/KIA. If it's long ago backstory or if military characters are not in imminent danger on the page, you're probably okay. Please note as a trigger warning in your query.
* Unfinished manuscripts
* Clowns, zombies, or same ol' vampires
* DON'T KILL THE DOG (or any other animal). Seriously. Don't.
AUTHORS
Stephanie Perkins, Mackenzi Lee, Kasie West, Ally Carter, Kiersten White, Tamora Pierce, Sherwood Smith, Kody Keplinger, Jodi Picoult, Karole Cozzo, Kim Culbertson
BOOKS
Dairy Queen series, Exit, Pursued by a Bear, Moxie, Simon vs. the Homo Sapiens Agenda, The Disreputable History of Frankie Landau-Banks, Home and Away, Have A Little Faith In Me, To Best the Boys, Red White & Royal Blue, The Nowhere Girls, Girl Out Of Water, A Week of Mondays, Scorpio Races, Harry Potter, Sky in the Deep, Percy Jackson, Westing Game, Hunger Games, The Last Voyage of Poe Blythe, The Tomorrow Series, No Good Deed, Vengeance Road & Retribution Rails, Strong is the New Pretty, Goodnight Stories for Rebel Girls, Tyranny of Petticoats & The Radical Element
MOVIES
Mean Girls, Blockers, Easy A, She's The Man, John Tucker Must Die, Princess Bride, Blue Crush, Clueless, Whip It, Wonder Woman, Mystery Alaska, Miracle On Ice, Bend It Like Beckham, Fighting With My Family, Jumanji: Welcome to the Jungle, Tag, Oceans Eight
What we're looking for in a mentee:
* Punctuality (it's a Carrie pet peeve). In the absence of punctuality, good communication will suffice.
* A desire to put good books out there for the Young Adult audience. We do this for a reason; know yours.
* Ambition and drive. Helmet on. Mouthguard in. Let's do this.
What you can expect from your TeamGirlPower mentors:
* TeamGirlPower is in this together 1000%. We'll polish your manuscript, your synopsis, your query, your pitch, everything but the silver! We'll start with big picture edits, in the form of a timely, thoughtful edit letter, making sure to address any concerns that you have. After a round of revisions, we'll go back through for line edits. We'll spend extra time on your first page to ensure that it is BRILLIANT.
* Sabrina is great with the three important Ds: dialogue, drama, and description. She has a good eye for elusive typos and awkward sentences, and she can help boil down a book for a killer query and a succinct, comprehensive synopsis.
* Carrie will make you kill your darlings (or at least move the unnecessary bits to a new doc), infuse tension on every page, champion your characters, and make sure you never stray from your voice.
* Zero judgment: TeamGirlPower is all about trust, teamwork, and open communication. We believe even the silliest question or idea can hold the most magic, and we want you to feel comfortable enough with us to speak your mind at all times. In the end, your manuscript is YOURS and we're here to help you bring your vision to life.
* Puppy pictures on a regular basis. We both have new puppies and YOU, our mentee, will have the unique opportunity to enjoy puppy pictures in your DMs any time you need a cuteness boost. Not all mentors offer benes like this.
* Fair warning: We're with you for the long haul, well beyond Pitch Wars and querying! We're not just about correcting your commas and graphing your arcs; we're here when you need to vent, cry, or happy dance. We're well stocked with stiff drinks and chocolate, and we've got the emojis and cute animal gifs on standby.
Please include word count in your query letter. If we request materials, we'll want to see your full manuscript and a short bio (a small paragraph is fine), along with query history. We'll want to know why you chose to query TeamGirlPower and what you're looking for in your co-mentors.
Thanks so much for your interest in TeamGirlPower! We can't wait to read your books and meet our future mentee!! If you have any questions about our genres or interests, feel free to email us at carrie.sabrina.pitchwars@gmail.com. You can also reach out to us on Twitter @CarrieSAllen and @LoftilyLotfi.
We look forward to hearing from you!
Love,
TeamGirlPower
Carrie Allen is a Colorado girl who wears flip-flops year-round and never skips dessert. She is retired from sports medicine, and extra-tired from chasing around two kids and two dogs. She writes contemporary YA about girls who kick butt in sports. Her debut MICHIGAN VS THE BOYS releases October 1, 2019 from KCP Loft; she is repped by SuperAgent Kate Testerman.
Sabrina Lotfi is a nationally published makeup artist with over a decade of experience in fashion and film. She writes contemporary books for young adults and is a pro at pep talks. Sabrina has a deep love for history, horses, characters with a dark side, and kickass retellings. She lives in Texas with her vampire kitty and her bat dog. She is repped by Dr. Uwe Stender of Triada US Literary Agency.